Heather Karr (Licensed massage therapist in Thousand Oaks, California) found that doing deep trigger point work was very painful to her hands. She wanted her clients to benefit from the good deep work, but also wanted to protect her hands. She tried using a golf ball and although a golf ball is perfectly shaped for smoothly and deeply massaging hard-to-reach muscles, it was damaging to the palm of her hand. She wanted a way to push the ball deeply into muscles but also disperse the pressure of the hard golf ball in her palm, yet still be small enough to allow her hands to glide on the client's skin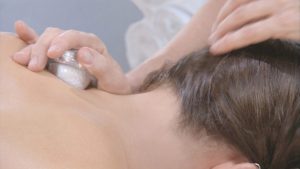 She made the first SPAball Massager prototype in her kitchen from a mound of Sculptey clay. After many modifications not only did her unique design protect her hands, it made the ball more controllable, and allowed her to remain "in-touch" with the client. This enabled her to perform many deep massages with trigger-point work without injuring her thumbs, a common injury for therapists. From baked clay, to the stunning jewel you see today, the SPAball Massager has undergone years of therapist and client-tested modifications.
Why did Heather create the KaddyBACK™?
Heather needed some of that golf ball action on her OWN back after a hard day of massaging her clients. She used to put a golf ball in a sock and press it into her upper back muscles against a wall but she wanted something she could use hands-free so she could get deep pressure in her back while traveling and not waste time standing against a wall. She developed the KaddyBACK, and not only did it substantially help the muscles in her back hands-free, but others wanted one too!